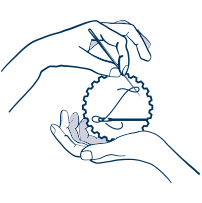 Leather Craft Workshop
Personal Appointment | Group Reservation
For those love leather craft
We offer private workshop for personal and organisations reservation with professional tutor and tools provided.
Tour of our factory – Shui Hing Tannery (the only remained leather factory in Hong Kong) can also be arranged for further experience.
Please Contact us for more details.
Personal Appointment
Book Your Workshop
*Only available in Hong Kong
Shop Now Stitching Pack Style
Reservation Step:

1. Go Shop and add the preferred style into cart. ** Please choose "Workshop" in the choice of products.**

If you want to customize style or any special requests, please contact us for more details.
2. Go Workshop Booking Page, choose available date and time, fill-in our booking form with the style number you choose (eg. BSP001) **Leather Colour/ Font can be chosen later in workshop**
3. After submitted the form, you will be charged by extra HKD100 for workshop booking fee. The total price of your order is included materials, tools and venue rental, tutorial fee.

4. See you in our Kwai Chung Workshop!

Address: 1/F Blk A, 8-12 Wing King Road, Kawi Chung, HK Opening Hours: 10:30-18:30 (Mon - Fri)
* We don't accept Walk-in Booking, please do your booking online. Thank you
Sun
Mon
Tue
Wed
Thu
Fri
Sat
The Lederer has profound experience in organising leather craft workshops and tannery tours for different companies and organisations. It can shorten the distance between the employees, strengthen their communication and interaction, to enhance the productivity of the enterprise.We also has organised various leather art activities with different enterprises, including APPLE, GOOGLE, Cathay Pacific, Harbour City, Chow Tai Fook, Samsonite, etc.
Please contact us directly for more details.